When it comes to hearty and satisfying Italian cuisine, a well-prepared pork ragu with pappardelle ranks high on the list. This classic dish marries tender, slow-cooked pork with a rich tomato sauce, creating a symphony of flavors that will transport your taste buds straight to Italy. In this blog, we present you with the ultimate pork ragu recipe, complete with cooking instructions, nutritional information, servings for 5 people, and answers to some frequently asked questions.
Ingredients:
For the Pork Ragu:
2 pounds of boneless pork shoulder, trimmed and cut into chunks
2 tablespoons of olive oil
1 onion, finely chopped
2 cloves of garlic, minced
2 carrots, diced
2 celery stalks, diced
1 can of crushed tomatoes (28 ounces)
1/2 cup of dry red wine
2 tablespoons of tomato paste
1 bay leaf
1 teaspoon of dried thyme
Salt and black pepper to taste
For Serving:
1 pound of pappardelle pasta
Grated Parmesan cheese
Fresh basil leaves
Pork Ragu Recipe Cooking Instructions:
Step 1: Sear the Pork
Heat olive oil in a large, heavy-bottomed pot over medium-high heat.
Season the pork chunks with salt and black pepper.
Sear the pork pieces until they are browned on all sides, then remove them from the pot and set aside.
Step 2: Aromatics and Tomato Base
In the same pot, add chopped onion, garlic, carrots, and celery.
Sauté the vegetables until they begin to soften and release their aromas.
Stir in the tomato paste and cook for a minute to enhance its flavor.
Pour in the dry red wine to deglaze the pot, scraping up any browned bits.
Step 3: Simmer and Combine
Return the seared pork to the pot.
Add crushed tomatoes, dried thyme, and a bay leaf.
Season with salt and black pepper to taste.
Bring the mixture to a boil, then reduce the heat to low, cover, and let it simmer for 2 to 2.5 hours. Stir occasionally and add water if needed to maintain a thick, saucy consistency.
Step 4: Prepare the Pasta
While the ragu simmers, cook the pappardelle pasta according to the package instructions.
Drain the pasta and set it aside.
Step 5: Serve and Garnish
Once the pork ragu has achieved its rich and tender texture, remove the bay leaf.
Serve the ragu over a generous portion of cooked pappardelle.
Garnish with grated Parmesan cheese and fresh basil leaves.
Nutrition Facts (Per Serving – 1/5th of the Recipe):
Calories: 562 kcal
Carbohydrates: 70g
Protein: 36g
Fat: 15g
Saturated Fat: 4g
Cholesterol: 82mg
Sodium: 624mg
Potassium: 708mg
Fiber: 5g
Sugar: 7g
Vitamin A: 3667 IU
Vitamin C: 12mg
Calcium: 103mg
Iron: 5mg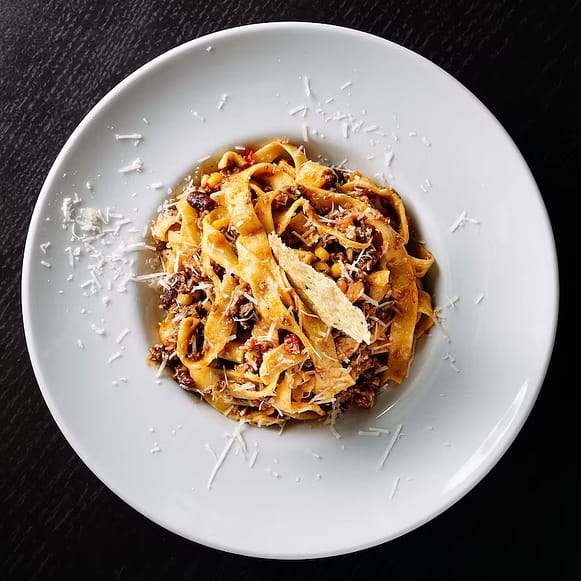 pork Ragu Recipe Servings for 5 People:
This pork ragu recipe is designed to serve approximately five people, making it an ideal dish for a family dinner or a gathering with friends.
Frequently Asked Questions (FAQs):
Q1: Can I use a different type of pasta with this ragu?
While pappardelle is traditional and pairs wonderfully with pork ragu, you can certainly use other pasta varieties like tagliatelle, fettuccine, or even rigatoni.
Q2: Can I make this ragu in advance?
Yes, pork ragu actually tastes better when allowed to sit for a day or two in the refrigerator, as the flavors meld and intensify. Reheat it gently before serving.
Q3: Can I substitute the pork with another meat?
Absolutely! This ragu can be made with beef, lamb, veal, or a combination of meats for a unique flavor.
Q4: What can I serve as a side dish with this pork ragu?
A simple green salad or garlic bread makes excellent side dishes to complement the richness of the ragu.
Q5: How can I store leftovers?
Store any leftover pork ragu in an airtight container in the refrigerator for up to 3-4 days or freeze it for longer-term storage.
Now that you have the pork ragu recipe, gather your ingredients, and embark on a culinary journey to savor the rich flavors of this delectable pork ragu recipe with pappardelle. Enjoy a taste of Italy in the comfort of your own kitchen!